my approach
Key Concepts
collaborate
The best designs are collective and collaborative: where each idea is layered upon the next to create solutions that are impactful, memorable, and profitable.
validate all assumptions
Every design should be backed with research and data. No guessing allowed. The assumptions identification and validation process is a critical part of effectively managing risks as part of a risk assessment for an organization's initiative, objective, or strategy.
emotional design FTW
Problems are emotional. The designed solutions should address that. Desirability is an integral component of design thinking, which when partnered up with business and technical objectives can result in a powerfully designed strategy.
facilitate "awesome"
Shift the focus from making an awesome product to making an awesome user of that product. The best products help users become awesome not just at using the product, but at whatever it is the product can help them do and be.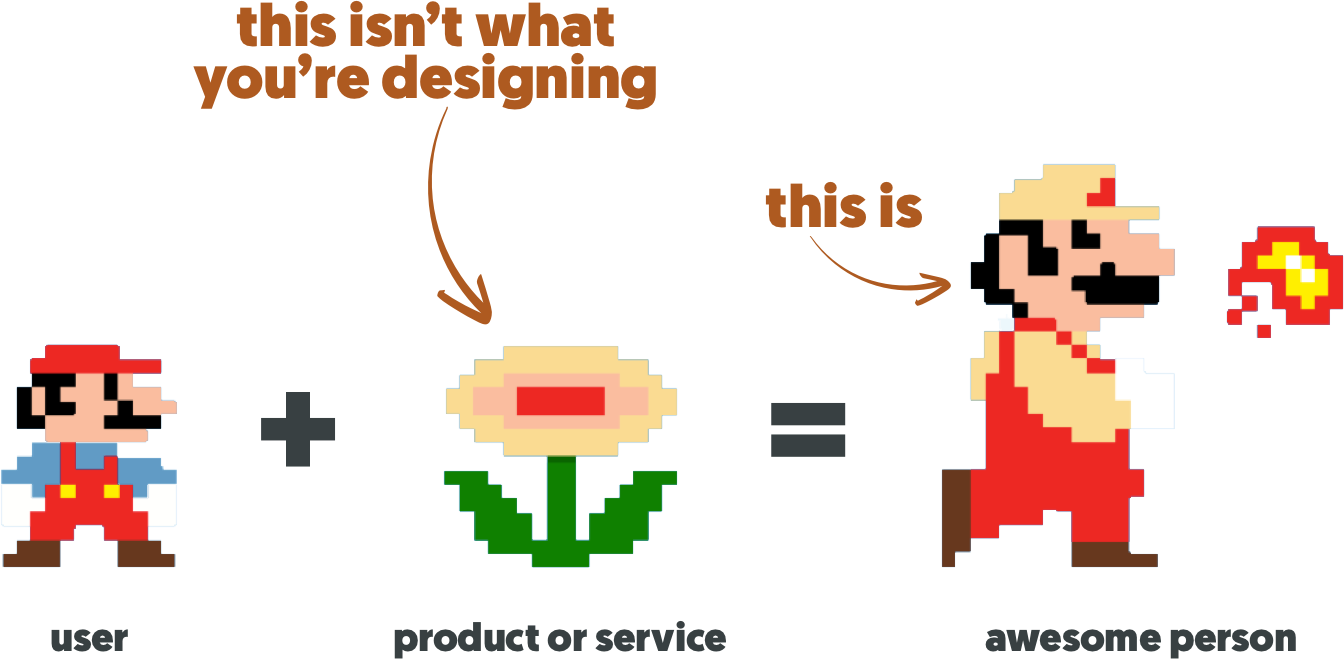 design thinking meets human-centered design
Most User Experience (UX) designers follow the mantra of creating viable, feasible and desirable user experiences.
Viability: Meets the needs of the business
Feasibility: Can be built
Desirability: Meets the needs of the user
But how do you acheive those goals?
Design Thinking, popularized by Stanford's d.school, is a process a design team uses to create solutions that will actually be adopted by people.
Human-Centered Design, popularized by IDEO.org, is a mindset that overlays design thinking to ensure that the products are actually relevant and beneficial— in the long run — for the people they are intended to serve.
To make this more clear, any business can use Design Thinking to build a solution that is capable of making money. Applying Human-Centered Design on top of this will ensure that the solution actually serves the needs of the people using it.
Getting Started
According to the principles of Human-Centered Design, before we start the 5-stage Design Thinking process we need to adopt a mindset which is optimistic that a solution is discoverable, and that the solution lies in the population we are trying to serve.
Discover
Design Thinking begins first with understanding people, and trying to focus on a definable problem that this group of people has. During this stage, Human-Centered Design reminds us that we are in the "Inspiration" phase, and that we should not rush to get to execution. This enables us to more fully first understand the people we are trying to serve, and HCD also provides ethical methods on how to do so.
Define
Design Thinking then recommends that you frame one problem that you can meaningfully design towards. On top of this, Human-Centered Design guides us to converge stakeholders to better understand their needs, assets, and opportunities to align around one common, shared problem.
Design
Design Thinking guides us to come up with as many ideas as possible — not just "right" ideas. To this, Human-Centered Design recommends creative processes in this "ideation" phase on how to generate more ideas in partnership with those we are serving.
Validate
Design Thinking tells us to test the prototypes in order to first identify if they will be adopted, and also as a format to learn more about the end-user. Human-Centered Design checks to make sure that not only will the population adopt the solution, but that it actually creates impact along the identified goals of making things better.
Develop
Design Thinking tells us to develop a minimum viable prototype to see if the solution will actually be adopted by the market. Human-Centered Design provides tools in this "Implementation Phase" that recommend prototypes be built in partnership with key stakeholders and end-users in order to get their feedback and suggestions.